Shopping Cart
Your Cart is Empty
There was an error with PayPal
Click here to try again
Thank you for your business!
You should be receiving an order confirmation from Paypal shortly.
Exit Shopping Cart
Melbourne's hot weekend home auction market reported another year-high result on Saturday, and now it's no longer just the eastern suburbs feeling the heat.
The 83.3 per cent clearance rate eclipsed the previous non-holiday peak of 82.1 per cent, recorded just three weekends ago. Clearance rates of more than 80 per cent on have been recorded on five of the last six weekends, and only just failed to reach that benchmark on May 9, when a rate of 79.7 per cent was recorded. This weekend's result was well ahead of the 74.3 per cent recorded over the same weekend last year, reflecting the rise of the market over the past year.
Healthy late-autumn auction numbers were recorded on Saturday, when 995 homes were listed to go under the hammer - well ahead of last weekend's 837. Auction numbers are expected to rise sharply next weekend as sellers avoid the Queen's Birthday holiday weekend in a fortnight.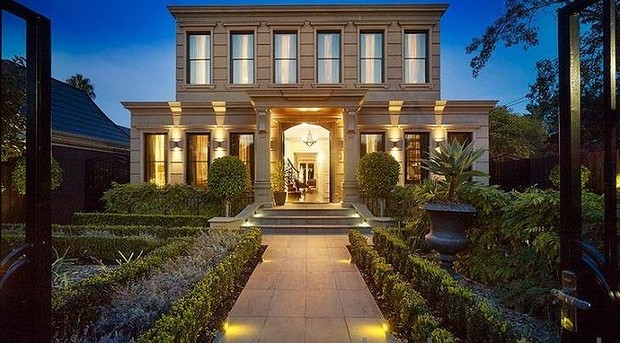 Melbourne's eastern suburbs are still market leaders, but the gap is closing in a rising market. Photo: Supplied
The strengthening housing market has been largely concentrated in the eastern suburbs this year, with the outer-east region typically performing well compared to other areas. Last Saturday was no exception, but other regional results were much closer to the leader, suggesting that strong market activity is now spreading throughout the Melbourne market.
Although the outer east recorded a strong 89.4 per cent result, it was down on recent performances. The next highest rate was the inner south with 88.1 per cent, followed by the inner east 86.6 per cent, the north east 84.3 per cent, the west 84.2 per cent, the south east 80.8 per cent, the inner city 80.2 per cent and the north with 67.3 per cent (the only region that failed to record a clearance rate above 80 per cent at the weekend).
Home buyer confidence and enthusiasm are clearly on the rise throughout the suburbs. The lowest mortgage rates since the mid 1960s have been a key catalyst for rising housing market activity this year, with the full impact of this month's cut yet to take effect.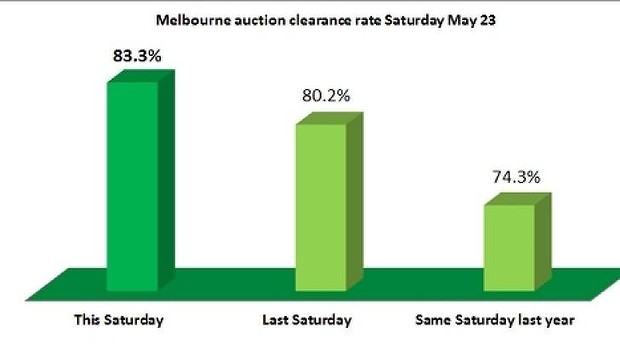 The weekend's auction clearance rates substantially outpaced the same weekend last year. Photo: Supplied
Notable sales reported at the weekend included a four-bedroom home at 1 Russell Street, Toorak, sold for $3.96 million by Abercromby's Real Estate, a six-bedroom home at 27 Donna Buang Street, Camberwell, sold by Jellis Craig for $3.37 million, a three-bedroom home at 82 Maud Street, Balwyn North, sold for $3,083,000 by Hocking Stuart, another three-bedroom home at 1 Grieve Street, Balwyn North, sold for $2,805,000 also by Hocking Stuart and a three-bedroom home at 1 Chesterville Road, Glen Waverley, sold by Woodards Mount Waverley for $2.72 million.
The most expensive property reported sold at auction at the weekend was a four-bedroom home at 46 Canberra Grove, Brighton East, sold for $4,010,000 by Hocking Stuart. The most affordable property reported sold at the weekend was a one-bedroom unit at 3/117 Anderson Road, Albion, sold for $146,500 by Douglas Kay Sunshine.
Latest ABS home loan data shows the number of first home buyers to gain approvals increased by 10.9 per cent in March, to 2369. First home buyer numbers have increased by a healthy 16.7 per cent over the first three months of this year compared to the same period last year. The average loan for a Victorian first home buyer approved in March was $319,100, 4.3 per cent higher than March last year.
The Reserve Bank is due to meet next week to decide on official interest rate settings for June. Following this month's surprising cut in rates, the Bank has indicated it may continue to trim rates to revive an underperforming economy.
Low and falling interest rates will certainly bolster the rising Melbourne housing market, which is set for one of its strongest Mays on record.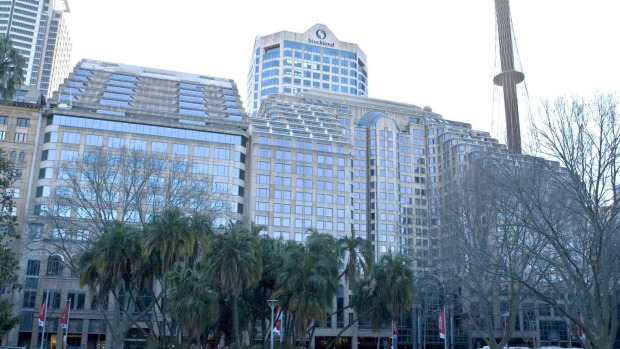 Sheraton on the Park hotel was bought by Chinese investors. Photo: Jim Rice
The softening of the Chinese market conditions, and government policy encouraging overseas investment by Chinese firms, has led to more than $US7.8 billion of global transaction in the first four months of 2015 (excluding residential dwellings), with Australia a major recipient, according to Knight Frank research.
On the latest report, Chinese Outward Real Estate Investment Globally and Into Australia, the total value of Chinese outward investment rose from $US600 million in 2009 to $US16.9 billion in 2014, 10 per cent higher than 2013 and a 205 per cent increase from 2012.
The share is focused on commercial property where four of the top 10 Chinese insurance companies have made offshore investments so far, although the remaining six are considering overseas expansion. Sunshine Insurance Group is the only one to invest in Australia, purchasing the Sheraton on the Park Hotel in Sydney for a record $463 million, through JLL.
Knight Frank's Dominic Ong, senior director of Asian Markets, Capital Markets, said it is expected that 2015 will be another record year for Chinese outward investment, both internationally and into Australia, with the expectation of more than US$20 billion worth of investments transacting globally. "So far the majority of the Chinese outward investment has been focused in gateway cities of Australia, the US and the UK," Mr Ong said.
"What first started as sovereign funds making exploratory investments has proliferated into buying sprees by Chinese developers, banks, Ultra High Net Worth Individuals (UHNWIs) and institutional investors, such as insurance companies. By 2020, authorities estimate that the Chinese insurance industry will accumulate a further RMB20 trillion worth of premiums, tripling the current pool size."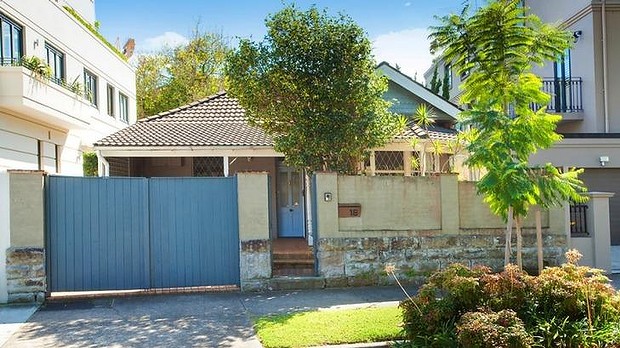 Buyers are being spurred into action by record low interest rates. This house at 18 Court Road, Double Bay, sold at auction on Saturday for $2.7 million. Photo: Supplied
Days after the Reserve Bank slashed interest rates to record lows the Sydney auction market recorded its highest clearance rate ever.
The 89.2 per cent result pipped the previous all-time record of 89.1 per cent, set just a week earlier.
Modelling from the Domain Group shows just how much of an impact rate cuts are having on clearance rates, as well as prices growth - something that was felt by agents and auctioneers across the city on Saturday.
One of the best results of the day a three-bedroom house at 18 Court Road, Double Bay, fetched $2.7 million, which was nearly $1 million more than the owners' expectations.
It was the latest raging auction weekend in a market that has been steadily building in intensity since interest rates started falling - from 4.75 per cent to 4.5 per cent - in November 2011.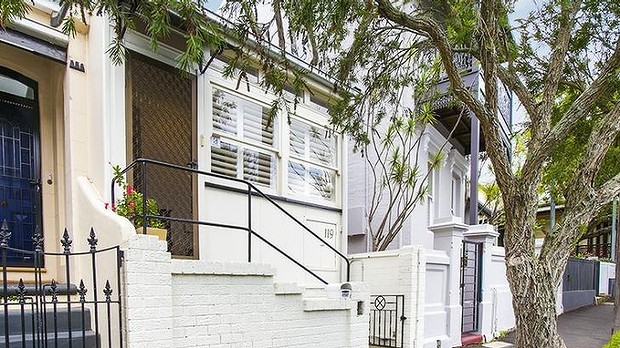 A one-bedroom house at 119 Beattie Street, Balmain, sold at auction for $1.28 million. Photo: Supplied
The new modelling done by Domain Group's senior economist Andrew Wilson shows that over this period of falling interest rates Sydney's median house price climbed steadily from $634,000 to $914,000.
But what he also found was that auction clearance rates closely followed prices upwards, from 51.6 per cent to more than 80 per cent at the end of March.
In fact he has tracked this correlation between interest rates, house price movements and auction clearance rates for several decades and said it was clear that while interest rates was one of the main drivers of house prices, clearance rates emerged as the best way to show whether prices were rising or falling in Sydney.
It was more accurate than looking at the results of properties just sold by private treaty, or even properties sold by auction and private treaty together.
"That's because (with auctions) you have a point where you go to market, as opposed to a private sale which is an open environment where you can sell in one day or 10 days," he said.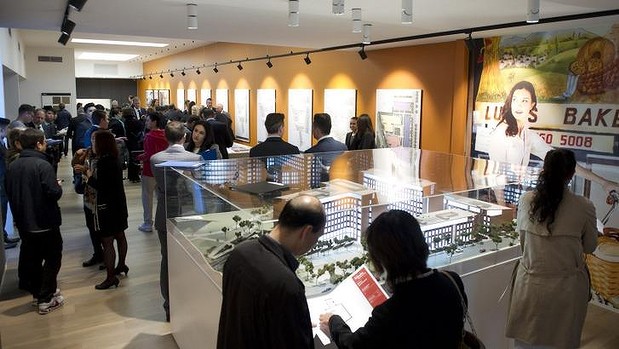 On Saturday buyers were also keen on off-the-plan apartments, snapping up 80 units in a new development in Dulwich Hill, Arlington Grove. Photo: Supplied
Clearance rates of more than 70 per cent meant prices were growing - and 80 per cent or more meant they were growing strongly. But "once you start moving down into the 60 per cent range prices growth starts to flatten, then below that you start to see prices growth weaken and under 50 per cent means there's less competition to the point where people who have to sell have to take what's offered to them. Then you see prices falling."
Although this model did not work for all Australian cities, it did apply to Sydney and Melbourne which both had large proportions of properties sold under the hammer, Dr Wilson said.
This proportion of auctioned properties in Sydney was now more than one in four, up from about 15 per cent four years ago.
On Saturday buyers were also keen on off-the-plan apartments, snapping up 80 units in a new development in Dulwich Hill, Arlington Grove. The most popular were one-bedroom-plus-study and two bedders.
In Balmain a one-bedroom house in Beattie Street, sold for $1.28 million, which was $330,000 more than its reserve. The buyer was one of 13 who registered to bid, said Ricky Briggs, from Briggs Auction Services.
In Prestons, near Liverpool, a vacant block of almost 3000 square metres sold for $1.47 million. Auctioneer Kate Lumby from My Auctioneer said the buyers were three young builders who pooled their resources. "Small developers are stretching themselves for good investments with potential to capitalise on," she said.
/